Laboratory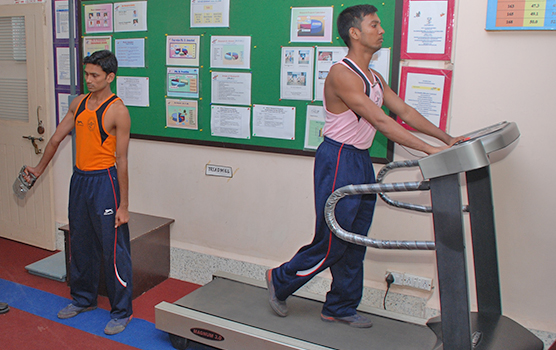 K.R College of Physical Education giving professional laboratory facilities to our beloved students. Our laboratory facilities help students to enhance their training activities. The Physical Education and Exercise Laboratory possesses the critical equipment to train their body with tech logical instruments that improve their physical education training and research needs of the Department.
Physical Education Laboratory to Improves Physical and Mental Health – Expert trainers of Physical Education and exercises in our institute, we needn't bother with a lot of an attempt to close the deal on the estimation of interest in Physical Education and other school programs that advance and empower our student's wellness and a dynamic way of life.
We are acutely mindful of the numerous advantages of support. Our trainers can educate our students and make them physically fit and guide them to manage any environment. Physical education laboratories create an opportunity to learn life lessons that make people be strong in physical as well as mental health.
Life lessons that supplement other academic lessons are educated each day in our classrooms and in our physical fitness laboratory, courts, arenas, pools, and fields. Diligent work, devotion, managing affliction, speaking with others, academic achievement, medical advantages, and so forth are immediately referred to as advantages of cooperation.
The knowledge developed in physical education training, help to reproduce skills which are hidden behind you. Bolstering the physical health ensures the complete physical education exercise. The aptitudes created through Physical Education are hard to imitate in a traditional classroom setting. Physical Education stays as, and ought to be advanced as, an important research center forever lessons; Our lab which assumes a vital part in the development of citizenship skills and training of our students in a professional manner.